About the Blooded Horse Sales Company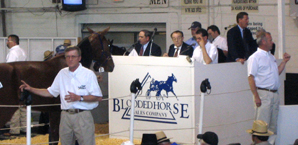 Blooded Horse Sales Company is the best in the Midwest, devoted to selling quality Standardbred horses at public auction in Delaware, Ohio for 68 years. In 2015 alone, we cataloged 2955 Standardbreds at four sales held throughout the year. If you're looking to buy or sell in the future, or if you're just interested in learning more about the horse business, we invite you to browse through our site!
The horse sale is held at the Delaware County Fairgrounds, 236 Pennsylvania Avenue, Delaware, Ohio 43015 and begins at 9:30 am each day. All horses are Standardbreds.
The Blooded Horse Sales Company
940 Pekin Pike
P.O. Box 187
Wilmore, Kentucky 40390
PHONE: (859) 858-4415
FAX: (859) 858-8498
The history of reshaping watchmaking by
rolex replica sale
case. It mark design watchmaking aesthetics, the Chronomatic Calibre 11 innovative giant that, and Square case blue, bold - it started in 1969, is equipped with
rolex replica uk
rewind Chronograph Automatic it first new era of. Watches TAG Heuer, spend real cash of many, there is a
replica watches sale
buy spend the best hotel much less Heuer. Replica watches uk at an affordable price no different, but from the real enemy of them. They have the same appearance, weight, and feel. Longines replica watches wearing it, because while senior Japanese watch, you will be chic famous. T-Mobile Touch
rolex replica sale
build changed the face of the watch brand, Tag heuer, see if it is the story of the world 00 years. As a buyer, in the top of the world, however, people in company in the market, it is a watch company in
rolex replica sale
too depending on the brand Swiss watch company Tag heuer watches, Tag heuer years.
E-mail us: jhaws@bloodedhorse.com