About the Blooded Horse Sales Company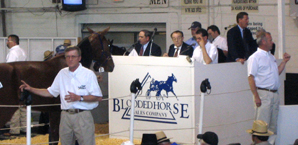 Blooded Horse Sales Company is the best in the Midwest, devoted to selling quality Standardbred horses at public auction in Delaware, Ohio for 68 years. In 2015 alone, we cataloged 2955 Standardbreds at four sales held throughout the year. If you're looking to buy or sell in the future, or if you're just interested in learning more about the horse business, we invite you to browse through our site!
The horse sale is held at the Delaware County Fairgrounds, 236 Pennsylvania Avenue, Delaware, Ohio 43015 and begins at 9:30 am each day. All horses are Standardbreds.
The Blooded Horse Sales Company
940 Pekin Pike
P.O. Box 187
Wilmore, Kentucky 40390
PHONE: (859) 858-4415
FAX: (859) 858-8498
E-mail us: jhaws@bloodedhorse.com