Sale Story, Aug 23 2022
Domethatagain Yearling Tops Blooded Horse Summer Sale and Youremyobsession Co-top Blooded Horse Summer Sale at $35,000
Rose Run Zizi by Domethatagain grabbed top honors when Greg Luther signed the ticket for $35,000 at the Blooded Horse Sale Tuesday Aug 23. One of the sport's more prominent owners, Luther was pleased to get the stunning black colt from the Rose Run Farm consignment for his brother Todd to train. Luther purchased three of the top six yearlings including Irreplaceable by Racing Hill from Jeff Jones for $15,000 and Nessieshelper by Helpisontheway from Swartz Stable for $14,000.
Other yearlings of note included the gorgeous brown Uma Lady by What The Hill who was purchased by Tom Knight for $16,500 from Spring Haven Farm, agent and the beautiful Dancin Yankee filly A Special Dance purchased by Herman Hagerman for $15,000 from Spring Haven Farm.
Burke Racing Stable co-topped the sale with the three-year-old pacing gelding Youremyobsession. The son of Sweet Lou was purchased by Brandon Bartley for $35,000 who also signed the ticket for Burke Racing Stable's nearly millionaire trotting gelding In Secret for $25,500. Burke Racing Stable consigned four of the top five racehorses and purchased the fifth, Louie Louie, a solid conditioned pacer for $30,000 from D Racing Stable. Michael Hitchcock got the final on the trotting gelding McStoned at $27,000; and Jeff Burton got the green three-year-old pacing gelding Rockin Paco for $24,000.
The Blooded Horse Fall Sale November 15-16 will again feature black type yearlings along with an abundance of two and three year olds, raceway horses and broodmares. Catalog requests for November will be available soon, and horse entries for November are available. Yearling entries close Oct. 12 and mixed entries for the main catalogue close Oct. 19.
Co-sale topper Rose Run Zizi is pictured with Todd Luther who will be training the son of Domethatagain for his brother Greg.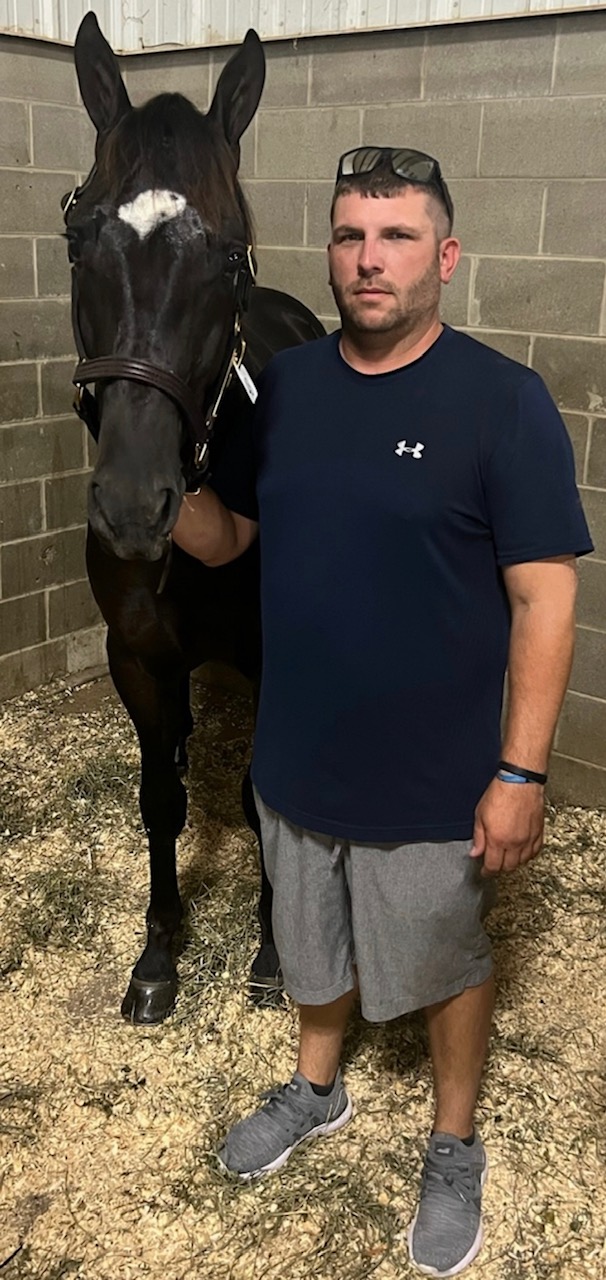 Thank you to all our bidders and consignors for another great sale!